One day, the following ad showed up in the Vintage Ads LJ community (back when people still used livejournal) and I immediately became enamored with it.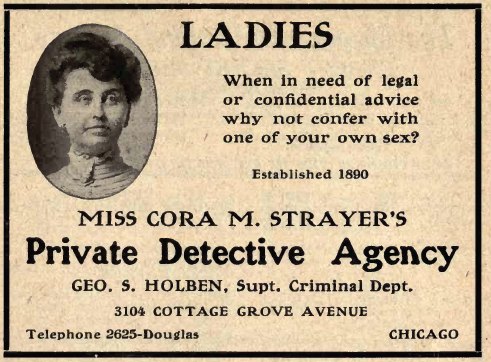 I am really into old ads and Chicago history, and the ad copy filled me with joy. I loved the idea of a female PI working the South Side of Chicago during the Progressive Era. My mind almost immediately started concocting stories and cases for her (historical fanfic? Is that a thing?). Cheating husbands, missing daughters, crooked alderman, maybe even a murder in the Stockyards. I was sure she had an affair with Upton Sinclair and her nemesis must have been H.H. Holmes.
I resolved to find out as much about her as I could. I never would have guessed that I would find so much and that she completely lived up to my expectations. So here is a timeline and documentation of everything I could find out about her (or at least as much as I could while spending no money and "researching" from the comfort of my couch). I HIGHLY recommend you click the links and read the articles. They're amazing.
I'm glad I can share this with the rest of the internet, feel free to hit me up via email or twitter with any comments, questions, or extra information you might have.
Jul 16, 1867

Cora May Strayer is the oldest of 5 children (her brother Otmer would come later) born to farmers Frank and Mahala Strayer in Elkhart, Indiana.

Mar 23, 1885

At age 17, Cora marries George Washington Murray in Elkhart.

Aug 1886

George & Cora have moved to Belleville, Kansas where George works as a painter. Their first daughter, Treva, is born about this time.

Jul 27, 1887

Their second daughter is born.

Sept 16, 1887

Their second daughter has died.

1890

George and Cora are both back home in Indiana, but they have separated. There are some problems with visitation and the Marshal has to get involved.

Jan 10, 1895

Treva dies of rheumatism in Chicago at age 9. She's buried back at the family's home in Goshen. Later, Cora takes out an ad to thank everyone for their kindness. (I notice the lack of George in all this).

Oct 6, 1896

George is granted a divorce from Cora, charging her with abandonment and "living an immoral life in Chicago."

1898

Miss Cora Strayer is living at 3819 Wabash in Chicago. She lists her job as "Clerk."

1902

The first ad for her detective agency appears! It's at 5453 W Lake - a 4-room apartment with $18 a month rent. The apartment is above a tavern that was consistently being raided by the cops for it's illegal poker room and bookmaking operations.

1903

Cora gets written up in her hometown newspaper in Elkhart for a case where she pulled a revolver on a man cheating on his wife.

Aug 1903

Cora is profiled in the Chicago Tribune under the matter-of-fact headline "Woman Directs A Detective Bureau". In it she claims that she originally studied law and practiced as an attorney for several years.

Aug 29, 1904

Another article and portrait, this time in the Indianapolis Star

1905

The first big ad in the Chicago city directory, complete with photo! Cora has moved to 3104 Cottage Grove, and a George S. Holben is named as the "Supt. of the Criminal Dept." In 1903 Holben was involved in a robbery where his landlady accused him of drugging her and stealing $750 worth of diamonds. Several weeks later, the diamonds were still missing, but Holben was not prosecuted. I don't know if Holben was working for Cora yet when this all went down.

Apr 12, 1906

Mahala Strayer dies at age 60. Her address is on Cottage Grove not far from Cora, so I assume her and Frank moved to Chicago at some point.

1907

Cora is hired by a Mrs. Campbell who believes that a Mrs. Harris is writing fake letters in order to make it look like she is having an affair with Dr. Harris and so she may blackmail her. Cora takes Mrs. Harris on a trip to Milwaukee, gets her drunk on $150 of fine wines, and steals the letters when she is passed out. Turns out Mrs. Campbell and Dr. Harris actually were having an affair and he performed an abortion on her. Mr. Campbell eventually killed Dr. Harris.

1905-1912

During this time ads for Miss Cora M. Strayer's Private Detective Agency appear consistently in both the Chicago Tribune, the Chicago Inter-Ocean, and the "Blue Pages." I'm guessing business is going pretty well.

July 1908

George Holben has lost his diamond lapel button, and he lists his address as the same as Cora's.

1908

The ad with the awesome copy. "Ladies, when in need of legal or confidential advice, why not confer with one of your own sex?" She's found a niche! Also, I'm calling bullshit on this "Est in 1890" claim. I can't find any record of the agency before 1902, and going from a 17 year old girl married in Elkhart, to a 21 year old single attorney/detective in Chicago seems like a pretty whirlwind ride for a woman of the time.

1909

"Business Women Who Have Made a Success of Bossing Men" - Cora is one of the subjects of a full-page article in the Sunday Tribune about female business owners. In it we learn that Holben was her first employee and that she is moving her office. The article also features a photograph of her and Holben in the office.

1910

In the 1910 census, Cora lies on her census form and says she is widowed, and that she was married for 5 years instead of 11. She owns the house at 2838 Indiana Ave and is living with George Holben there. She is 41 and he is 34. Also in the household is a maid, Hanna Newberg, a 29 year old Swedish immigrant. Cora lists her profession as "detective" and George is a "magazine journalist".

Apr 2, 1910

Cora is involved in yet another adultery-related car chase, this time leading to the arrest of the wife and the men she was going out with. This feels really shady, as the couple had been separated for months.

Dec 5, 1910

George Holben is shot and killed by Stephen Ayers, a 33 year old disgruntled ex-employee of the agency. Ayers claims that he met Cora in Seattle over the summer and that they traveled along the west coast with each other. He says that Cora invited him to Chicago with with promises of a job and marriage, but that she was being held hostage by Holben. Cora denies any love affair and says that she ordered Ayers fired due to unreliability. The Inter-Ocean story has some extra details. The murder even gets coverage in Los Angeles. Ayers is later sentenced to 15 years, and in 1913 he escapes from prison, but was caught two days later.

1911

Cora goes undercover as a cook, to gain evidence for a $10,000 alienation of affection lawsuit that "sets South Side society agog".

1912

George Holben is no longer listed on the ads.

Aug 1912

An irate wife whips her husband in the middle of the street after Cora investigates him "joyriding" with other women. (This was from a newspaper in Oregon!)

1911-1913

At some point here Cora marries a man named Robert Lincoln Fortune, whose previous wife just sued him for abandonment. He's originally from North Carolina and works in real estate. Cora is 43 and Fortune is 24, continuing her penchant for younger men. I think she might have also shut down the detective agency.

Dec 3, 1912

A man calling himself George Strayer that lives at Cora's address gets in a bad car accident. I have no clue who this guy is. George Murray is remarried and living in Goshen, George Holben is dead, and Cora doesn't have any brothers, uncles, or nephews named George. Is this Robert Fortune? Does Cora have a weird George fetish?

Feb 19, 1913

Robert Fortune dies. According to his death certificate he had oral cancer ("sarcoma of the fauces and palate") and a contributing factor was "exhaustion following a number of operations for removal of growths." Cora's brother Otmer provides the personal information for the death certificate.

Mar 26, 1913

Cora reincorporates the detective agency, her brothers Charles and Otmer also provide capital.

May 7, 1913

Cora testifies in front of a grand jury regarding her investigation of fraudulent "clairvoyants".

Oct 21, 1913

Cora files for bankruptcy. Her $11,970 in liabilities is about $300,000 in 2018 dollars. The Blackstone Hotel still exists, and John & Tracy Drake were prominent members of Chicago high society. I would love to know the story behind how Cora ended up owing them so much money. Maybe a real estate deal involving Robert Fortune?

Jan 29, 1914

About a year after Robert dies, Cora hosts his sister's wedding at her house. I found this very touching.

1914

"Colonel" Cora Strayer forms the First Volunteer Women's Calvary Regiment to take up arms and join the fight in the Border War with Mexico. The killer quote from her:

"Do you want to wait until all the men are killed to do your duty, sisters? A woman that would stand and let a man do all the fighting and suffering for his country is not a soldier. She belongs in the effete ranks of those who hurry abroad when the trouble starts. Pooh! She is not even worthy of the ballot."

Apr 1914

The regiment has 100 women.

May 1914

200 women. This scheme far and away gets the most coverage of anything Cora did, getting picked up in newspapers across the country. I have to admit I don't get what her plan was here. I mean, it's not like they were going to let her go fight in Mexico. Maybe a PR stunt to help women's sufferage?

1918

Cora is hired by the friends of a Mrs. Russell, who think her husband is having an affair. She is joined on a stakeout by police, who want to bring up Mr. Russell and his mistress on morals charges. The situation culminates in a car chase up Lake Shore Drive with Cora in pursuit behind the wheel of her black sedan. The ensuing case receives big coverage. Also, check out the awesome Wurlitzer ad on that page. They're "sanitary" records!

March 1919

Cora hosts Mayoral candidate Robert M. Sweitzer at her home. Cora's a Democrat! Or at least against corrupt machines.

1920

In the 1920 census Cora is still living at 2838 Indiana, but her retired father Frank has now moved in with her.

May 1923

The office has moved to 4933 S. Michigan Ave.

Apr 13, 1927

Frank Strayer dies in Chicago.

1930

On her 1930 census form, Cora lists herself as "Cora Fortune". She lives at 5834 S. Wentworth and is 61 years old. She's a widow and can read and write. She pays $40 a month in rent. She is still working, owns her own business, and declares her profession to be "Investigator".

Feb 6, 1931

This is the last ad I can find for the agency. The office is at 5834 S Wentworth.

Dec 19, 1932

Cora May Strayer Fortune dies in Chicago of a cerebral hemorrhage. She was 65. Her obituary mentions an adopted son, Donald Meyer. In the 1930 census, the Meyers lived next door to Cora, including their 19 year old son Donald. Both of Donald's parents were still alive, so maybe Cora had simply befriended the young man, or maybe.... 👀
I've tried to visit Cora's grave in Chicago's Rosehill Cemetary. While the area and plot number she is in are legible in the cemetary records, the row unfortunately isn't. The vast majority of the headstones in that area are gone, overgrown, or so completely weathered to be unreadable. I can get to within about of 100 feet of where she is, but the exact spot remains a mystery. But she's there.